On Friday 12th July, I headed down to London's Excel ready for an eye opening experience at the Europe CBD Expo. I entered to receive my lanyard, was greeted by security and I was in! Out of the corner of my eye; I spotted a policeman with a sniffer dog. Perhaps the thought of thousands of people coming to check out the array of legal CBD products, is still in some way, associated with illegal narcotics in our minds. A quick glance around, however, confirmed the expo was filled with people in suits searching for how they could make a profit from this ever growing market.
Walking around from stand to stand, it was apparent that this market is ready to boom! From CBD infused gummy bears, chocolates and energy drinks to vapes, drops and dog treats – they had it all. Each stall was kitted out with their samples and an enthusiastic army of sales reps handing out CBD drops left, right and centre. This was going to be a great day!
Within the first few moments, I was handed CBD drops to try, by Vitality CBD. The rich earthy taste tantalised my taste buds, as one of the sales reps told me more about their full spectrum of products. From lemon to berry flavoured drops, topical creams and rubs, e-liquids and more… 
With CBD pulsing through my endocannabinoid system, I decided to move on. Whilst on the hunt to find the holy grail of CBD products, I stumbled across a company called CallyFX. This American company was promoting vape products which could aid people in numerous ways: from improving sleep, helping you focus and even refining your sex life.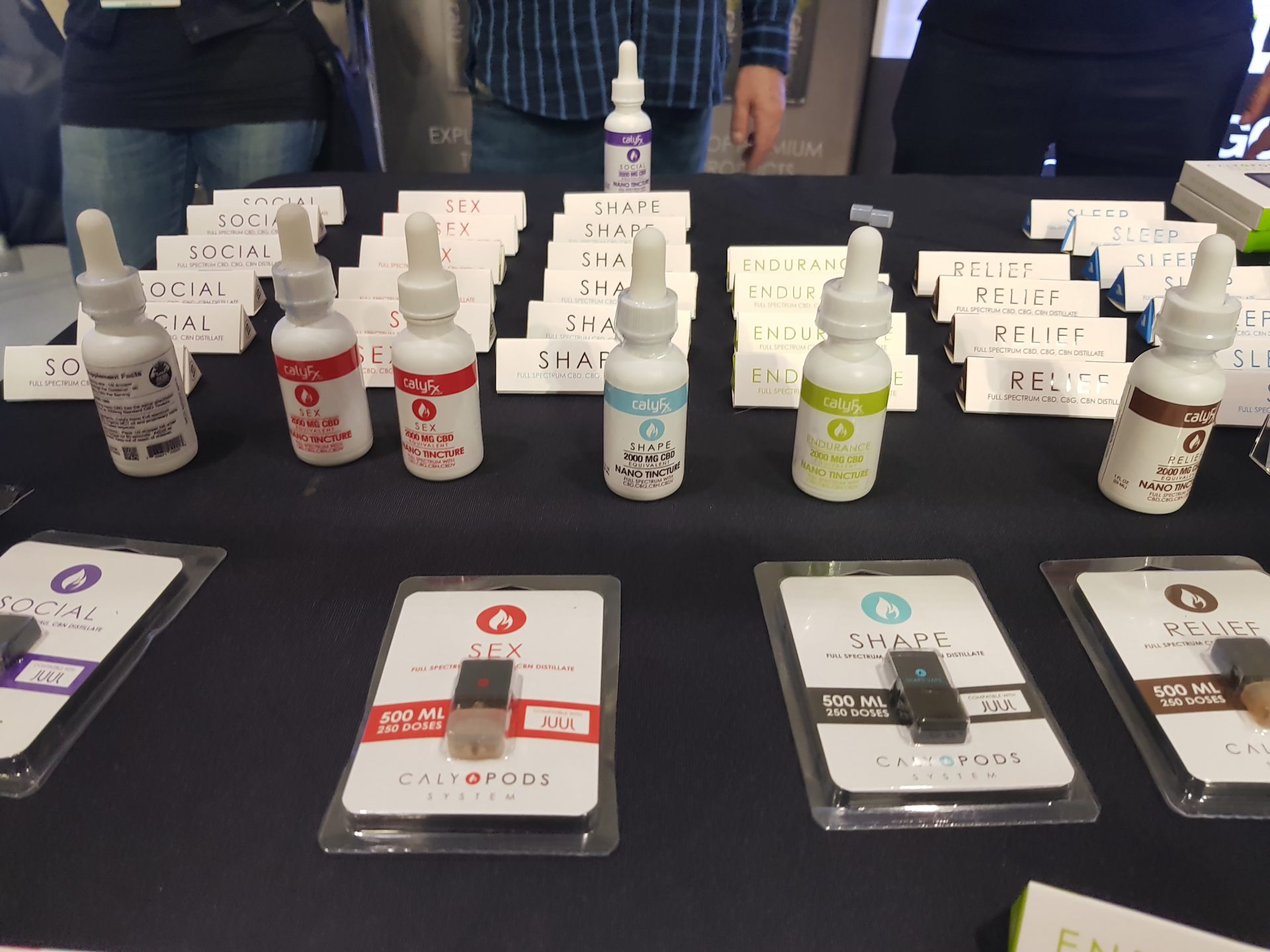 Whilst puffing on one of their discreet vapes, in the 'mist' that their 'social' vape may improve my interactive skills with the sales reps and other business entrepreneurs: I learnt that CallyFX had added terpenes from different cannabis strains to their products. Terpenes dictate the flavour, smell and overall effect of cannabis. CallyFX added this non psychoactive ingredient to give their CBD products a cutting edge over their competitors. 
Now floating through the conference, I headed over to the golden sponsor Ignite. The company which was forged by the multimillion tycoon and Instagram Playboy – Dan Bilzerian. Notorious for his love for poker and women, he has now decided to add cannabis to the list. While already making a statement in the US and Canadian market, he has decided to try his hand, within the UK and Europe. 
I was greeted by Mr. Bilzerian's entourage of women and was handed a disposable blood orange vape pen. Instantly, the zingy taste refreshed my mouth, it was delightful. The product was called lucid, the aim: to make me feel clear and balanced. With high levels of CBD already present in my body, I did not know which CBD product was taking effect, however, I was left feeling satisfied, relaxed and not high. I could see from their sleek silicone design, ram logo and accessible options that Ignite may be looking to build a culture around CBD products. It was not just designed as a a product to help aliments, but as a product that people can use in their every day lives and even enjoy using.
Overall, London's CBD Expo demonstrated that the CBD market is expanding and rapidly growing in popularity amongst punters. With predictions that the market will reach £1billion by 2025, UK and Europe CBD market is certainly one to invest in. My time at the CBD expo was enlightening: with the large variety of non psychoactive products targeted for a multitude of uses. It was hard to pinpoint, which company stood out in particular, due to the heavy amount of competition and products consumed that day. I was very impressed with the huge amount of CBD products on offer, though, it was hard to decide a favourite, in such a short space of time. I believe products tested in the longevity of our every day lives, from which we start to feel improvements in ourselves, are the ones we will begin to favour.
However, it has made me very excited for the next Expo!